Marriage and Family Life Resources
Catholic Charities – Provides an array of human services, regardless of faith or ability to pay, such as counseling, foster care and adoption, senior citizen services, personal needs and linen closet, and tutoring.
Catholic Divorce Ministry – A Catholic ministry committed to the healing and recovery of those who have experienced separation and divorce.
Center for Women of Jackson – The Center exists to assist women experiencing an unplanned pregnancy and various life challenges, offering resources such as pregnancy testing, ultrasound services, ongoing pregnancy support, counseling, and adoption services.
Courage – A loving ministry and resource program to persons who experience same-sex attraction, and who wish to follow the teachings of Christ and His Church.
The Third Way – A beautiful video explaining the Church's response of hope and compassion for those who experience same-sex attractions:
EnCourage – A supportive ministry to family members and loved ones of those who struggle with same-sex attractions.
Family Life Center International – Dedicated to defending the faith, family life, and fatherhood throughout the world, and to renew society by building strong, moral families. 
For Your Marriage – A service of the United States Conference of Catholic Bishops, which seeks to strengthen marriage and family life in the Church in the US. Also includes a helpful list of resources for those who are struggling with use of and addition to pornography.
Jackson Right to Life – Promoting a culture of life from conception through natural death in the greater Jackson, Michigan region.
Natural Family Planning (CCLI) – The Couple to Couple League offers resources to help married couples to use Natural Family Planning, which is a moral means of reading the body's signs of fertility so as to achieve or postpone pregnancy.
Pope Paul VI Institute – An internationally recognized organization which promotes natural fertility regulation, women's health, and reproductive/fertility medicine, and offers professional, caring, and morally acceptable patient services.
Project Rachel – Offers hope and healing for those who have experienced loss through an abortion. Our local (Lansing) affiliate can be contacted at (517) 290-7800
or http://newlifecenterlansing.org/
ReClaim – Offers science-based, Catholic resources for those who desire to reclaim God's plan for their lives and the lives of loved ones impacted by pornography or other unhealthy sexual behaviors.
Retrouvaille – Pronounced re-tro-vi (with a long i), Retrouvaille is a French word meaning "rediscovery". Thousands of couples headed for divorce have successfully overcome their marriage problems by attending this Catholic program.
Treasures in Our Hearts – Offers hope and healing for families dealing with the pain of a loss of a child.
Jackson Food, Clothing & Shelter Resources
Society of St. Vincent de Paul – Offers assistance with food, utilities, and furniture for those in need within the parish boundaries of Queen of the Miraculous Medal Church. Please call 517-783-1295 for assistance.
211 – If you're looking for assistance with a problem or you simply want information on a particular human service issue in Jackson County, dial 2-1-1.
Jackson Interfaith Shelter – Located at 414 S Blackstone St, Jackson, MI 49201. Please call 517-789-8735 for more information.
Jackson Food Pantries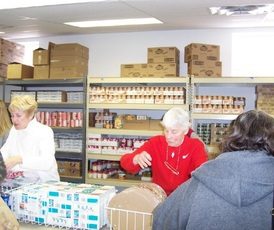 Immanuel Lutheran Church
1505 W. Michigan Ave.
Saturday, 9:30-11:30 a.m.
Jackson Community Pantry
701 Greenwood
Wednesday, 4-6 p.m.
Trinity Wesleyan Church
620 Robinson Rd.
Tuesday & Friday, 10 a.m. – 2 p.m.