Have you lost a child either through miscarriage or stillbirth?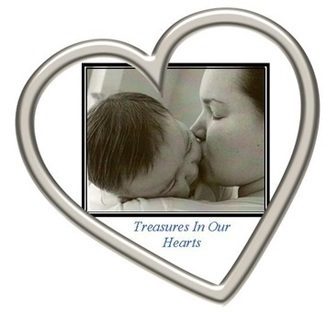 Treasures In Our Hearts (TIOH) is a ministry of Queens Parish which offers resources and emotional support. TIOH volunteers provide assistance to families of all faiths with memorial and burial/interment options, funeral home assistance, and grief support.
Treasures In Our Hearts offers you assistance and grief support, however, we cannot offer medical advice. TIOH encourages anyone who believes that they have had a miscarriage, a problem during pregnancy, or a stillbirth to seek the advice and/or diagnosis of a healthcare professional. While treating your medical needs, caring and compassionate doctors, nurses, and staff will also recognize your loss, heartbreak, and vulnerability. Many hospitals, including Henry Ford Allegiance Health in Jackson, MI, do have a bereavement specialist available to you.
Treasures In Our Hearts Mission
To comfort families who have lost a baby due to miscarriage or stillbirth. To offer help, to families of all faiths, with preparation and planning, to say good-bye to their little one. To be available, as caring, compassionate volunteers, providing assistance, resources, and guidance to families in their hour of need. To pray with hope and faith that parents, who lose their baby before their child's life even begins, find peace and solace – always holding their treasure in their heart.

Informational attachments include additional information for your reference.
If we can help in any way as you struggle with the loss of your baby, contact:
Treasures In Our Hearts
Mary Anne Utess, Director
Queen of the Miraculous Medal Parish
606 S. Wisner Street
Jackson, MI 49203
Telephone: 517-435-5814
Email: tioh@queenschurch.com
Donations
Treasures In Our Hearts is a ministry of Queen of the Miraculous Medal Parish, 606 S. Wisner St., Jackson, MI 49203. Tax-deductible donations may be made in the form of cash or check payable to Queen of the Miraculous Medal Parish, listing Treasures In Our Hearts or TIOH on the memo line, or can be made online by clicking here.