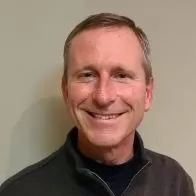 Chairperson
jritterqueenschurch.com
I have been a parishioner since 1993, shortly after marrying Patty, a life-long parishioner. After 25 years of marriage and two children, Joey (26) and Rachel (25), my wife passed away. I have worked for 23 years at Henry Ford Allegiance Health Laboratory. I am an Account Specialist for the Department of Pathology and Laboratory Medicine (basically the marketing guy).
Parish Involvement: Eucharistic Minister of Holy Communion, Lector, and a substitute for the Adoration Chapel.
Favorite Bible Verse: Mark 10:46-52 The story of the blind man that calls out to Jesus. I like this story because it takes a blind man to "see" Jesus, to know he is the Son of God. He can "see" who Jesus really is while the others, who can see, don't "see" Jesus as that person.
My hope for the future: To make our parish as welcoming as it can be. Mostly though, my and our role as members of the Pastoral Council, is to "listen" and be a liaison between the parishioners and Fr. Tim. We need to be the mode of communication to relay any issues that a parishioner may have to Fr. Tim. I do love our parish and think it is in great shape. We just need to continue onward with it and make it as great a parish that we can.
I am very honored and blessed to be the chair of the Pastoral council. I also hope that we keep the momentum going that our parish has. We have phenomenal parishioners at Queens, and we are blessed to have Fr. Tim as our pastor.