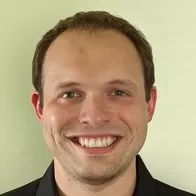 Member-at-large
I joined the parish 6 years ago when I converted to the faith. I married my wife Katie (Sexton) in 2017 and we have 3 beautiful girls: Isabella (3), Jane (1), and Lillian (2 months). I am currently employed at Consumers Energy as part of their Operational Technology-Critical Infrastructure Platforms team.
Parish Involvement: I was a RCIA sponsor for my sister, Ashley Palmer, who is now Catholic and a cantor at Mass. I often volunteer for events as needed and always willing to help my fellow parishioners.
My favorite Bible verse: Mark 8:34 "If anyone wants to follow after me, let him deny himself, take up his cross, and follow me". Jesus is telling us that we have to carry our crosses every day while knowing he is our redeemer and is with us every step of the way.
My hope for the future: My hope for Queens Parish is to boost the interest of the faith in the younger generation. I am here to help, and answer questions that anyone might have. I hope to see a parish full of the younger generation, and see them excited to be at Mass, to receive our Lord Jesus Christ.