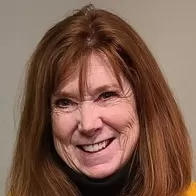 Worship Commission Representative
I have been a parishioner for over 60 years! I am married to Russ and we have three adult children. Lauren, Leslie, and Neil. I have 5 grandchildren and one on the way in February of 2022. I am a social worker/psychologist, having worked in the nonprofit arena. The arrival of my second child found me working part-time as a sales consultant and community volunteer.
Parish Involvement: I co-chair the Walking with Purpose Bible Study; Chair of the Worship Commission. Lead the Wednesday Women's Group; participate in the Adoration Chapel. I also have volunteered in many activities at our Church and the Catholic schools.
Favorite Bible verse: Jerimiah 29:11 "For I know the plans I have for you, says the Lord, plans to prosper you and not harm you, plans to give you hope and a future."
My hope for the future: Since becoming more active at the parish, it is my hope that all our parishioners would come to understand and really fall in love with our Catholic faith. I have learned that the more I have participated in the offerings of our Parish, the more I appreciate my Catholic faith. I would encourage everyone to step out and try more than Sunday Mass. There are many blessings waiting for them!