This Third Sunday of Advent is Gaudete Sunday, a Latin word for Rejoice! We rejoice because Jesus' birthday will soon be here, giving us hope of better and brighter days, in this life and in the next. No matter what problems you face, our faith gives us calm, peace, hope and joy with the love of God in Christ Jesus.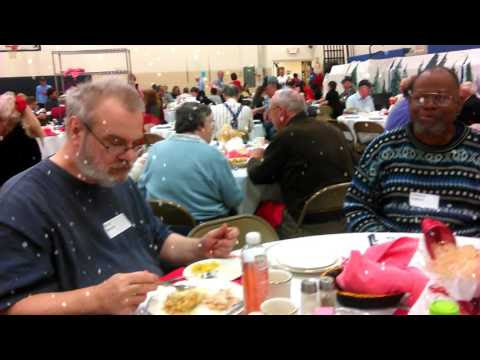 COMMUNITY WIDE CHRISTMAS DINNER: BE OUR GUEST and come to the Queens Community Wide Christmas Dinner in the Queens School Gym at 2pm on Christmas Day. Doors open at 1:15pm. Families and single diners are welcome and everyone gets more food to go. If you have no one to spend the holiday with, come spend it with us and be our guest for a home cooked holiday meal served family style. Reservations for the dinner can be made by calling 517.435.5296 between 8am and 5pm.
Be a blessing to someone else this Christmas. How you may ask? Volunteer to help with the Queens Community Wide Christmas Dinner. We need more than one hundred volunteers to make this meal happen. If there's any chance you can help with set up, serving or clean up, please call 517.414.4438 or better yet, use the Sign Up Genius Link:
https://www.signupgenius.com/go/10c044aa9a629a1f94-queens2
At all Masses this weekend you can pick up the ornaments for donations to the dinner. Please take one or more and bring back the items specified. Thank you for helping to make a Merrier Christmas in Jackson!
COFFEE AND DONUTS THIS WEEKEND: Join us in Vincentian Hall this Sunday morning after the 7:30, 9am and 10:30am Masses for fellowship. Thank you to the Parish Life Commission for sponsoring this.
OLIVE WOOD: Our friends from the Holy Land are in the Hall after all Masses this weekend offering their find hand carved olive wood religious gifts just in time for Christmas. You can browse their selections during coffee and donuts. Cash, check, credit card are accepted. All proceeds go to benefit the struggling Christian families in Bethlehem.
PREPARE THE WAY OF THE LORD: Give yourself the gift of mercy this Christmas – go to Confession. See your burdens lifted from you, replaced by the grace that can sanctify you. This is the schedule of Confessions for Advent in and around Jackson:

St. Mary Saturday December 10, 10am (TOMORROW!)
St. John Thursday December 15, 7pm
Fatima Tuesday December 20, 7pm
Queens Wednesday December 21, 7pm (there will be Holy Hour at 5 and Mass at 6)

Don't forget there are also Confessions at Queens every Saturday from 3:30 – 5pm. Once you have been forgiven, become more forgiving of others.

BEER & HYMNS DECEMBER 11TH: The Queen's Music Department is presenting another great evening of "Beer & Hymns" at the Bone Island Grille in Jackson, this Sunday evening December 11th at 7:00 p.m., featuring seasonal music and a sing-a-long with Anne Fleming and our Contemporary Worship Ensemble! Tickets are $12 and include a free domestic beer or soft drink with each purchase. You may get your tickets directly from Music Director Carol Hatch at Mass this weekend.

QUEENS ONLINE GIVING ADVENT OFFERTORY APPEAL: As I write this, we are already more than 10% of the way to our goal of 100 new online givers in support of Queens this Advent. As I mentioned last week, Queens has 100 fewer envelope users and 100 fewer online givers in 2022 than we did in 2021 and that is why it is so vital that we act now to bring as many people over to online giving as possible.

Online giving frees you from having to remember to bring your envelope, cash or checkbook with you to Mass and it assures that Queens benefits from your stewardship even if you are away or home sick. You still control your account, setting the size and frequency of your donation while maintaining the freedom to stop your gift or adjust it at any time.
This appeal is intended especially for those that believe in supporting the parish and who wish to do so, but who sometimes forget to bring their offering with them to Mass. Setting up an online gift takes only a matter of minutes on your smartphone or computer. Just have your account information handy. Every gift is secure and accounted for so that you can still be issued a stewardship statement for your taxes at the end of the calendar year. Click here to sign up or to reactivate an online giving account with Queens:
https://queenschurch.com/give/online-giving/

I have heard before that some parents sending their children to Catholic School believe the tuition they pay is a donation to the Church. No. It is a payment for an incurred expense. Truth be told, the tuition we charge covers only about half of the cost to educate each child. The church's general fund and fundraisers have to pay the rest. Over forty cents of every dollar donated to the parish is spent on education. That is something we are obliged and happy to do, but families who pay tuition should still consider themselves fair game for this sales pitch to enroll in online giving.

Whether people start using the Online Giving Program or not, we all must realize that Queens depends solely on the generous and giving spirit of its membership to stay vibrant and viable. Those that give nothing could give something. Those who already give might consider increasing your gift as I have done.
WHY GIVE TO THE UPKEEP OF THE CHURCH? THE BIBLE TELLS US SO (www.vision2.com):
We see the origin of giving gifts to God in Genesis, when Cain and Abel made sacrifices, long before there was a church. God instituted worship, which they understood to include sacrificial offerings.
As God formalized worship, he required a tithe, or a tenth, of everything, including crops, animals and financial gain. (Leviticus 27:30) These gifts financed the tabernacle and temple, and supported the priests, who help followers to connect with God.
It was not that He needed any type of tangible gift. But, rather, giving oriented worshippers to put him first and to invest in his work with both their skills and their resources. God promised that putting him first would result in a blessed life. (Malachi 3:10).
Maranatha, Come Lord Jesus!
Fr. Tim MacDonald
Pastor