SECOND SUNDAY OF ADVENT: Jesus is coming soon. Are you ready? In the Gospel this Sunday, John the Baptist proclaims: "Prepare the way of the Lord, make straight his paths." One way we can help you get the most out of Advent is to give you a copy of the Magnificat Advent Companion. They were sitting in boxes last week and I forgot to put them out for you. That problem has been corrected. This little booklet is free to you and your family and it has wonderful brief reflections for you and your family to pray and ponder during the countdown to Christmas. You can find the Magnificats at the doors of the Church this weekend.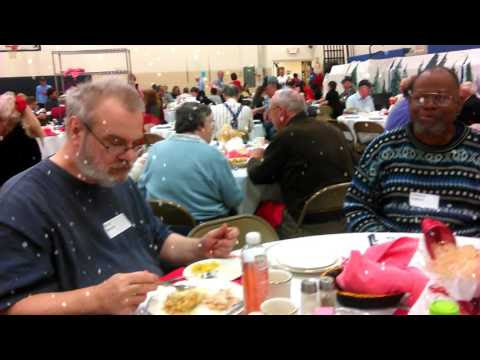 CHRISTMAS DINNER VOLUNTEER SIGN-UP: We need a boatload of volunteers to help us set up, serve and clean up from this year's Community Wide Christmas Dinner at 2:00pm on Sunday December 25th. If you are staying local this Christmas and if your family is celebrating on Christmas Eve, please consider giving of your time on Christmas Day to help brighten the holiday for others who may not have as much to cheer about. Here is the link to sign up for shift(s):
TOYS FOR TOTS THIS WEEKEND: Please bring new and unwrapped children's toys, games and gifts to Mass this weekend. Donations of cash and check are also accepted. You will be invited to bring your gift to the altar at the offertory. All donations benefit the children right here in our own community.
HOLY DAY OF OBLIGATION DECEMBER 8TH: Thursday December 8th is The Solemnity of the Immaculate Conception of the Blessed Virgin Mary, the Patronal Feast of the Catholic Church in America and The Diocese of Lansing. There will be a Vigil Mass for the Holy Day at 5:30 on Wednesday December 7th (NO Holy hour at 5pm). On Thursday December 8th, there will be holy day Masses at Queens at 6:45am, an All School Mass at 9am, and 5:30pm.


PREPARE THE WAY OF THE LORD: Give yourself the gift of mercy this Christmas – go to Confession. See your burdens lifted from you, replaced by the grace that can sanctify you. This is the schedule of Confessions for Advent in and around Jackson:

St. Rita Tuesday December 6, 7pm
St. Mary Saturday December 10, 10am
St. John Thursday December 15, 7pm
Fatima Tuesday December 20, 7pm
Queens Wednesday December 21, 7pm (there will be Holy Hour at 5 and Mass at 6)

Don't forget there are also Confessions at Queens every Saturday from 3:30 – 5pm. Once you have been forgiven, become more forgiving of others.


BEER & HYMNS DECEMBER 11TH: The Queen's Music Department is presenting another great evening of "Beer & Hymns" at the Bone Island Grille in Jackson, on Sunday, December 11th at 7:00 p.m., featuring seasonal music and a sing-a-long with Anne Fleming and our Contemporary Worship Ensemble! Tickets are $12 and include a free domestic beer or soft drink with each purchase. You may get your tickets directly from Music Director Carol Hatch or at the parish office during regular business hours. Seating is limited and time is running out!
COME HOME FOR THE HOLIDAYS: Some of you might be welcoming guests into your home this Christmas. Others might be a guest in someone else's house for the holiday. Jesus wants all of us to be together for the celebration of his birthday this Christmas. If you know someone that hasn't been to Mass in a while, invite them to join you at Mass this Advent and Christmas season.


ADVENT OFFERTORY APPEAL: Last week, I wrote about our average Mass attendance, down 177 people per weekend since the onset of the Pandemic in 2020. The week before I wrote about the downturn in Sunday offertory collections. The parish finance council has been doing a deep dive into these numbers to see what the issue may be. There are several factors:

The number of envelope users is down, 287 fewer than last year. The average amount they give is also down. The number of online givers is down by 94 people. Strangely, the amount received in online gifts this year is $1,000 more than last year, even with fewer donating. Comparing the two, the loss of regular envelope users who did not switch over to online gifts appears to be the nucleus of this offertory problem. Counting envelopes and loose cash, Queens received $35,538 less in 2022 than we did in 2021. That is more than a week's total offertory (weekly target: $33,000).


Is it inflation? Is it because the Catholic Church dared to openly oppose and speak out against Proposal 3? It is likely both, but I need those who are still here to get behind a plan to stop and reverse this downward trend before it becomes an issue requiring cuts to budgets and programs here on our campus.


This is the season of hope, and my list of Advent hopes and dreams is growing. I hope that those who have not come to Mass since the Pandemic will come home and that those who only watch the Livestream out of convenience rather than necessity will come back to Mass in-person. I also hope we can get as many parishioners as possible to enroll in the parish online giving program, that would more than make up for the loss of envelopes and givers of loose cash.

For all these reasons, I am launching an Advent Offertory Appeal at Queens this December. I am asking ALL of our Queens parishioners to be mindful of your prayerful financial support (or the lack of it) of our parish for which we all share responsibility.


More than half of the people that attend Mass at Queens never use envelopes or online giving and provide no financial support whatsoever to the parish. If you come to Mass here regularly and give nothing, you could start giving something, anything – even $5 a week adds up to over $250 a year. If you give sometimes and not others, you could become more consistent. Online giving saved our parish and school during the pandemic and I believe it can again. It is hassle free and easy to set up. Go to our website or call the office to enroll and set it up. I will be sharing information and soliciting help every weekend of Advent leading up to Christmas, with special hopes of increasing our online givers by 100 before the month is out!
As bad as the economy has become, most of us will spend a lot of money this December getting ready for Christmas. Please remember our parish and school when you are figuring out your end of year giving. I am not asking you to do anything I am not prepared to do. I try to lead by example and that is why I have already raised my own offertory gift to the parish by 15% a week. I know due to inflation, expenses and fixed incomes, not everyone is able to make that same increase, but if everyone did something instead of the same small group of people having to do everything, this problem would end immediately.
Queens is one of the most generous parishes in the whole diocese, without a doubt. The scriptures remind us – it is in giving that we receive. Thank you to everyone who has committed their time, talent and treasure to the upkeep of Queens Church and School. You have set a great example for the rest of us!
PEARL HARBOR ANNIVERSARY: Honor the 81st Anniversary of the attacks on Pearl Harbor at 1:00pm this Wednesday December 7th at the Sparks Park/Cascades Jackson County Parks Military Memorial Site across from Cascades Baptist Church. Of the 2,403 people who lost their lives that day, 1,177 (49%) of them were stationed on the USS Arizona. 28 Michiganders died that day. The Battleship USS Arizona Memorial Project at Sparks Park was completed under the leadership, vision and perseverance of US Navy Seabee, veteran Stan Mazur, a Queens parishioner.


KEEPING YOU SAFE: With vandalism and violence spreading to Churches all across America, the Queens Parish Council has been discussing ways to increase security during events that happen here. Toward that end, we are looking to recruit the volunteer services of parishioners who are retired and active-duty military, law enforcement, firemen, corrections officers, EMT's and first responders to be trained to be extra 'eyes and ears' during Masses at Queens. If you fit this description and you are willing to be of assistance, please contact Elaine Crosby, Director of Parishioner Engagement at ecrosby@queenschurch.com or call the parish office.

Maranatha, COME LORD JESUS!
Fr. Tim MacDonald
Pastor