Within the next couple of weeks, Queens will be starting to use a new email/text service to communicate with you. The name of the service is Evangelus. You may have received a text in the last 24 hours asking you if you would like to receive texts from Queen of the Miraculous Medal. That was sent earlier than we expected. However, if you would like to receive notifications from us when there is a new email from me, or just a quick announcement from the parish, please reply YES to the text. If you reply STOP to the text, you will not receive these Evangelus texts, though you will have the opportunity to change that option later. I apologize for the confusion this may have caused for those who thought they were receiving Spam.




CATHOLIC SCHOOLS WEEK: This week all across the United States we celebrate Catholic schools and the big difference they make in the lives of students, families, culture and the Church. In Jackson, we have fewer schools and smaller schools than 'back in the day,' but we feel we have more to offer now than ever before. Students in Catholic Schools average higher test scores, a higher graduation rate, more of them go to college, more of them stay in the faith and attend Mass as adults, and there is a greater chance of someone from a Catholic school discerning a vocation.




Catholic schools used to be the norm, not the exception. Compared to some two million Catholic school students enrolled across America today, there were more than 5.25 million children in Catholic schools in the U.S. in the early 1960's. Queens felt that same baby boom once upon a time. Many of you remember it. In 1963, Queens was the largest K-8 school in the whole diocese with 1,183 kids in it, and well over 50 and sometimes 60 students in each classroom. Now our enrollment is just under 260 students, which means we have room for more!




As the newly formed Jackson Catholic Schools, we realize our greater strength lies in working together to strengthen all of our parochial schools, as the rising tide lifts all boats. The Diocese is also investing more and more resources to make Catholic education accessible, affordable and exceptional with a new funding formula to increase tuition assistance grants across the Diocese and a new three-year contract with the Catholic Liberal Arts Education Institute that will vastly strengthen our curriculum and course offerings.




For those parents who themselves attended Catholic school but who send their own children elsewhere, consider giving them the same opportunities your parents gave to you. Thank you to all those who support Queens Church and School. Catholic schools are our greatest tool in spreading the Gospel to future generations and they deserve all of our support.




PRESENTATION OF THE LORD: Thursday February 2nd is the Feast of the Presentation of the Lord, the 40th Day of Christmas, formerly known as Candlemas Day. There will be a blessing of candles and a candlelit procession to begin the daily Mass that morning at the 6:45am Mass. If you are an early riser, come join us. If you have candles you use in your home devotions, bring them with you and they will be blessed. This feast celebrates Jesus who is the Light of God who came into a world darkened by sin and death to show us the way to the Father's House in Heaven. The Presentation of the Lord is the 4th Joyful Mystery of the Rosary.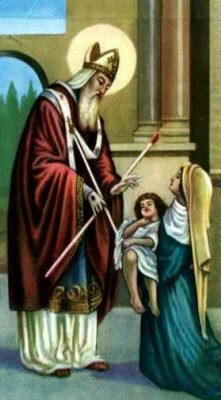 CATHOLIC CHARITIES VOLUNTEERS: Every time the priests of this region meet, we invite the director of Catholic Charities to come and update us on where help is needed most. The need for people to train as foster parents for at-risk children removed from abuse and neglect at home comes up every time. I am always hopeful that Queens parishioners will open their homes and hearts to children who have had it rough.

A new need has come to our attention. We need more drivers to take senior citizens and veterans to their doctor appointments. You need to be a good, licensed driver with clean, dependable transportation and you must understand that not all of these appointments are in Jackson. Sometimes people need to go to Chelsea, Ypsilanti, Ann Arbor or up to Lansing. All of us could find ourselves in need of this service some day. If you are willing to help, please let me know and I will have someone from the agency call you to make arrangements based on your availability.




ANOINTING OF THE SICK: Saturday February 11th is the Feast of Our Lady of Lourdes and the World Day of Prayer for the Sick. I use this occasion to make available the Sacrament of the Anointing of the Sick to anyone who may find themselves in need of it. Join us for the 8:00am Mass on the 11th and the anointing will occur during it.



In the Church's Sacrament of Anointing of the Sick, through the ministry of the priest, it is Jesus who touches the sick to heal them from sin – and sometimes even from physical ailment. His cures were signs of the arrival of the Kingdom of God. The core message of his healing tells us of his plan to conquer sin and death by his dying and rising.

The Rite of Anointing tells us there is no need to wait until a person is at the point of death to receive the Sacrament. A careful judgment about the serious nature of the illness is sufficient.

When the Sacrament of Anointing of the Sick is given, the hoped-for effect is that, if it be God's will, the person be physically healed of illness. But even if there is no physical healing, the primary effect of the Sacrament is a spiritual healing by which the sick person receives the Holy Spirit's gift of peace and courage to deal with the difficulties that accompany serious illness or the frailty of old age.

~from The United States Catholic Catechism for Adults




PLANNED PARENTHOOD: Once upon a time, Planned Parenthood in Jackson was open only three days a week and they performed no abortions. They acted only as a referral service. Now they are open five days a week and chemical abortions are happening on site. When abortions started happening there, Jackson Right to Life made the bold decision to put prayer partners and sidewalk counselors outside the clinic every hour it is in operation. That has been hard to maintain with the recent expansion of their hours.




YOU CAN HELP! We the Jackson pastors and parishes are committed to standing with Jackson Right to Life to keep those prayer partners out there on the sidewalk. We are looking for more volunteers for Monday, Tuesday, Wednesday and Thursday each week. Volunteers are asked to make a 1 hour per week commitment. A sub can be found when needed. Training is available. If you are willing to stand up for the children most at risk of abortion, please call Beth at 517-262-1750 or email beth@thorrez.com.
I hope to see you at Mass this weekend. The Gospel comes from Jesus' Sermon on the Mount, The Beatitudes, where Our Lord defines a happiness that is quite literally out of this world!

"Rejoice and be glad, your reward will be great in Heaven."


Fr. Tim MacDonald
Pastor