VACATION BIBLE SCHOOL: This year's VBS will be absolutely "Monumental" and it's finally here! All this week, Monday July 11 – Friday July 15th, children from pre school through 6th grade will be taught about the greatness of God and His goodness starting with the majesty and power of God found in nature where the children will make virtual visits to some of the most awe-inspiring natural wonders of God's creation.




HELP IS NEEDED: As the enrollment grows so too does our need of youth and adult Crew Leaders to take a group of kids for VBS week. We are looking for 3-4 high school, college age or adults who can be present each day of VBS from 8:30am until every child in their group has been picked up just after noon. No previous experience necessary. This is a last minute plug – but only because there are so many kids signing up that we need to work harder to keep up with demand. There is a Crew Leader Training Meeting in Seton Hall at the parish office tomorrow Saturday July 9th at 11:00am. We can plug you in as a Crew Leader even if you can't make a meeting on such short notice. To ask questions or volunteer, contact "Bible School Betsy" Koval at bkoval@queenschurch.com or look for her in the staff directory at 517.783.2748. The Crew Leader is NOT the teacher. You are responsible for the general safety and welfare of 7 children in a mix of grades K – 6, getting them to their stations on time and making sure no one is left out or left behind. This is a great opportunity for high school students to complete service hours for school. Contact Betsy now!

Potty trained 3-4 year olds with some preschool experience have a program all their own. Every other child in K-6th grade joins us for the full track of music, outdoor games, Bible discovery and Imagination Station each day from 9am – noon. There is a special program to conclude the last day followed by a hot dog lunch grilled by the Knights of Columbus. The Kona Ice Truck will be pulling up that afternoon as well so all the kids can choose their own snow cone flavors!

WE HAVE EXTENDED THE EARLY REGISTRATION DEADLINE THRU THIS WEEKEND: $15 per child, $30 for two, $45 three or more. At the door: $20 per child ($60 max/family). Financial aid is available on request.

Register online here: https://www.osvhub.com/queen-of-the-miraculous-medal/forms/vbs-2022

Participants get a tee-shirt, daily snack time and lots of take home items each day including a CD of their favorite VBS songs. Vacation Bible School is open to non-parishioners and even non-Catholics.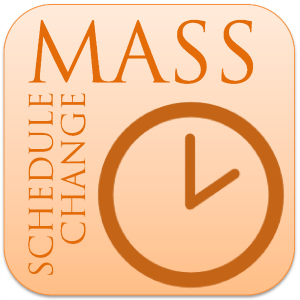 UPCOMING MASS CHANGES: I am moving some Mass times during Bible School Week so I can be present for the start of each day's sessions. On Monday July 11th and Friday July 15th the 9:00am Masses at Queens will be moved to 8:00am so I can do both.

I will be away on vacation with some priest friends from my seminary days in Rome. Bishop has advised that when a priest is sick or knows he will be away for a period of time, that it is fitting to cancel daily Masses where needed. Therefore, there will be NO weekday Masses on July 22, the morning of July 23rd, or any weekday between Monday July 25th and Friday July 29th. If you attend daily Mass here at Queens please make a note of these upcoming changes. I would recommend going to the 12:05pm weekday Mass at St. Mary's instead. The Mass schedule for the weekend Masses of July 23-24 is unchanged. If there is a pastoral emergency or the need of an anointing or Last Rites while I am away, the parish office will help connect you with a priest in a neighboring parish.
MISSION APPEAL JULY 23-24: Since I will be away that weekend, we are going to use the opportunity to satisfy the diocesan requirement of hosting an Annual Mission Cooperative Appeal for the Office of Missions at the Diocese of Lansing. Father Georges Roger Bidzogo, a Pallottine missionary will be here from South Africa to encourage our support of the important work being done in the mission field in his home diocese, especially where he serves at St. Peter Church in Durban. This is one of the poorest areas in South Africa. St. Peter Church's soup kitchen is feeding 200 a day, providing child care for working parents, providing schooling for refugee children and helping older students to learn a vocational trade or open a small business to help provide for their families. There will not be a second collection but mission collection envelopes will be available and we will provide a link for those wishing to make an online donation.

God bless you. Pray for the success of this year's VBS!


Fr. Tim MacDonald
Pastor