Good evening one and all,

The new school year has begun. I was happy to welcome our 255 students to an all school Mass this morning. I offer special words of welcome to faculty and students who are new to Queens and the Jackson Catholic Schools. I hope you will love it here as much as I do. Your stewardship allowed for important capital improvements in the school this summer: new state of the art, fuel efficient boilers, more air conditioned classrooms, high speed internet cabling and new computers! Thank you to the many generous donors and contractors who make these improvements possible. We can't do it without you!

For parents looking for a change, it is not too late to enroll for classes. We still need to make sure that the 181 school age children in our parish records who are not in Catholic School or Faith Formation receive some form of religious education. There are plenty of opportunities for all of us to learn more about the treasures of the Bible and our Catholic faith. Some of those options are discussed here:



Faith Formation Classes begin Sunday, September 11, 2022Faith Formation classes are available for public school and/or home school children in grades PreK 3 through 12th grade Formation class. There is also a special class for children participating in the Rite of Christian Initiation of Adults (adapted for children.) Our first day of class will be September 11, 2022, and classes will run from 10:15-11:45 every Sunday, with a few Sundays off during the school year. Classes are held in Queens' school. The last day of class will be May 21, 2023. Each year our Faith Formation calendar includes a fall field trip, a winter field trip, May crowning and an end of the year fun fest. There are also celebrations of special saints days, liturgical feasts, parties and other fun activities to which parents are invited. Tuition costs this year will be the same as last year– $75 for one child, $125 for two children, and $175 for 3 or more. Financial assistance is available, as well as the option of participating in our Tuition Reduction Program (TRIP) to help defray the costs. Please contact Betsy Koval at bkoval@queenschurch.com if you need assistance. We are looking forward to a fun and faith-filled year. Please feel free to email or call Director of Faith Formation Betsy Koval (bkoval@queenschurch.com, or 783-2748) if you have any questions or concerns!Click here to register public school children for Sunday Faith Formation:
https://www.osvhub.com/queen-of-the-miraculous-medal/forms/qmm-faith-formation-registration-22-23

You may also pay online using the same form. If you would rather not pay online or need financial assistance or use TRIP, please select "offline payment."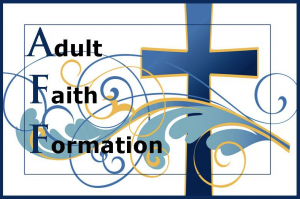 We offer Adult Faith Enrichment on Sunday mornings at the same time as Faith Formation. This year we present "The Practical Catholic: Living daily life grounded in the Catechism of the Catholic Church." This class also begins on Sunday September 11th and meets in Seton Hall on the lower level of the parish office from 10:15 – 11:45am.

Come join us for a cup of coffee and a great discussion among a very friendly group of people. This will not be a dry, dull class! We especially welcome parents with children in the Sunday morning Faith Formation classes. Even if you can only drop in on a class here and there, COME! Each class stands on its own. There is no cost to attend the class. It is absolutely free! No class materials required. Bibles and Catechisms will be on hand.

We will be watching short, engaging video clips by well known Catholic presenters from Ascension Press, speaking on topics like: Keeping Kids Catholic, Am I Prepared to Answer Questions About My Faith? Seven Hacks for Getting More Out of Mass, Going to Confession for the First Time in a Long Time, How to Have a Healthy Relationship With Social Media, Do You Know Jesus? Are You Sure? How to Love Someone That Is Hard to Love What Are My Charisms? For more information, please contact Mark Mathias: markpmathias@gmail.com, 517.750.7447.




CALLING ALL CONVERTS: TheRCIA or Rite of Christian Initiation of Adults is a program for anyone considering becoming Catholic, both those who have never been baptized and Christians of other denominations. The first meeting is this Wednesday August 31st beginning at 6:30pm in Seton Hall on the lower level of the parish offices. To learn more or to sign up you can contact Betsy Koval, bkoval@queenschurch.com or call the parish office. Some of the greatest preachers and missionaries of Catholic history are themselves converts to the faith. Someone in their life inspired them, invited them and prayed them into the Catholic Church. This is how we pass on the treasures of our faith to those around us, not only parents to their children but to those in this world who do not know God or Jesus Christ. This is intentional missionary discipleship, spreading the faith to new audiences.


A new and improved version of Children's Liturgy of the Word will be back at the Sunday 9am and 10:30am Masses beginning September 11th. Children's Liturgy is available for children between the ages of 4 and those up to 3rd grade. This will be more strictly enforced this year. The program is not designed for those who are too young or too old!
The Women's Walking With Purpose Bible Study returns next month with Thursday evening and Friday morning options. The ladies of WWP will be signing up new members the weekend of September 10-11. Brothers in Christ, the men's prayer group, is also returning. Be watching the bulletin and these parish emails for more details about both programs. Keeping the faith is no easy task in the world we live in that is increasingly hostile to the Gospel. Finding fellowship with like-minded believers helps to build stronger bonds and make us better able to explain and defend our faith to our many critics.




BLUE MASS AT ST. MARY: Local law enforcement, first responders and those who work in public safety will be recognized and prayed for at The Annual Blue Mass sponsored by the Knights of Columbus on Sunday September 11th at 10:00am at St. Mary Star of the Sea, a fitting way to honor the 21st Anniversary of 9-11 when the lives of so many first responders were lost. If you are in law enforcement or a first responder, please consider attending this special Mass if your schedule permits. Others are welcome to come pray for the safety of those who risk it all on a daily basis to keep us safe.




SENIOR APPRECIATION MASS: Come celebrate with Bishop Boyea and the priests of the Jackson Region. The Council on Aging invites all of our senior citizens for the Annual Senior Appreciation Mass and Lunch with the Bishop at St. Mary Star of the Sea on Tuesday September 20th at 11am. Make your reservation by Tuesday, September 6, by calling the Queens parish office, 517-783-2748. This is a free event. We are collecting personal and household necessities for Catholic Charities' Personal Needs & Linen Closet. Cash donations to Catholic Charities are appreciated as well.


Fr. Tim MacDonald
Pastor