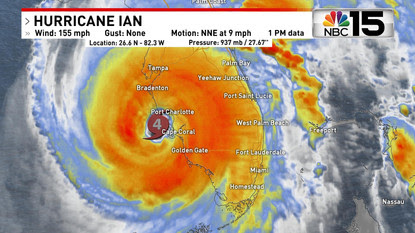 PRAYERS FOR FLORIDA: Our weather in Michigan is rather tame compared to what happens in the south and along the coasts. I know some people could live without our winters, but I will take the ice and cold over hurricanes any day. We offer prayers tonight for all those in the path of Hurricane Ian across Florida.

St. Medard is the patron saint against storms and hurricanes. Why? For that answer, we turn our attention to this data garnered from The Catholic News Agency Online:
St. Medard was born around 456 in Salency, France. Medard was ordained at the age of 33, and did not wish to be made a bishop, but reluctantly became the Bishop of Vermand in 530. Medard was one of the most honored bishops of his time, and he soon became the hero of numerous legends.Legend says that when he was a child, Medard was once sheltered from the rain by a hovering eagle. This is his most common depiction in art, and it led to his patronage of good weather, against bad weather, for people who work the fields, etc. Legend has it that if it rains on his feast day, the next 40 days will be wet; if the weather is good, the next 40 will be fine as well. He was also often depicted as laughing aloud with his mouth wide open; this led to his patronage against toothache.
The people along Florida's gulf coast could certainly use some divine intervention tonight and in the days to come. Say a prayer for them:

Saint Medard, patron saint for protection against bad storms,
we ask you to intercede for us during the storms of our lives
as well as the storms in nature.
Protect our families and our homes.
We pray for assistance for the victims of snowstorms, hurricanes, tornadoes, earthquakes, and other natural disasters,
Loving God, send in more helpers, and multiply resources and supplies
for the aid of those in need.
You calmed the storm on the Sea of Galilee;
deliver us from the storms that are raging around us now.
Saint Medard, pray for us.Amen.– Adapted from a prayer by the Catholic Review




HELP THOSE IN NEED: The cleanup from Hurricane Ian will require a massive mobilization of resources. You can help the first responders prepare by making a secure online donation using your credit card:

https://www.redcross.org/donate/donation.html/




PROPOSAL 3 'EQUIPPING LIFE' WEBINAR TOMORROW AT 7PM: Join us in the Queens School Gym tomorrow evening Thursday September 29th from 7-8:30pm for a live webinar featuring medical and legal experts from all over the state commenting on what is unclear, illegal, unethical and morally wrong with all that is hidden inside of the proposed amendment to the state constitution, otherwise known as Proposal 3 or The Reproductive Freedom For All Act. Churches and other groups from around Michigan are hosting 'Watch Parties' so we can all get the same information from the same source at the same time. This is free and there is no need to register. Come and bring a friend, tomorrow night at 7pm in Queens School Gym.




PHONE BANK VOLUNTEERS NEEDED: we are looking for volunteers to join a phone bank. You will be calling fellow parishioners to encourage them to understand Proposal 3, and to vote no. Scripts are available. Lists will be provided. Please email ecrosby@queenschurch.com.




PET BLESSING THIS SATURDAY: Join us in the Queens Memorial Garden for the Annual Pet Blessing this Saturday October 1st at 10am in honor of the upcoming Feast Day of St. Francis of Assisi on Tuesday October 4th. St. Francis is the patron of animals and pets and we can all benefit from his saintly intercession.




LIFE CHAIN SUNDAY OCTOBER 2ND 2:30PM: This year's Life Chain requires a bigger turnout than ever before given the high stakes of this proposed amendment to the Michigan Constitution. Join us at the corner of West Michigan Avenue and Bowen St. at 2:30pm THIS Sunday October 2nd for an hour of silent prayer, standing up for the culture of life in the face of the culture of death. Signs will be handed out with prayers on the back to recite individually and in silence. This is not a protest. It is a reminder that the silent majority still believes in absolute truth, the natural law, the common good and Biblical values that defend the right to life, liberty and the pursuit of happiness for all people, even those in the womb.

CONVOCATION MASS SCHEDULE: Most of the priests will be away next week at the clergy convocation. There will be regularly scheduled Masses that I will offer here on Monday and Friday at 9am. During the Convocation, The Servants of Charity at the St. Louis Center in Chelsea will offer one Mass per day in the city:

Tuesday October 4th St. Joseph Oratory, 5:30pm
Wednesday October 5th, Queens, 6:00pm (following 5pm Holy Hour)
Thursday October 6th, St. Mary Star of the Sea, 12:05pm

Depending on where you live, you might consider Our Lady of Fatima in Michigan Center, where there will be 8:30am on Tuesday and Thursday. Disregard the option of the Pious Union of St. Joseph when you see it in the bulletin this weekend as most of their daily Masses have been cancelled due to priest shortages. If there is a need for an anointing for someone who is sick during the convocation, call the parish office and they will try to locate a priest in the area.




OCTOBER 7 – FEAST OF OUR LADY OF THE ROSARY: Join us for the All School Mass at 9:00am next Friday October 7th and remain with us afterward as the entire Queens School and parish community join together to Fight Like Heaven, praying the Sorrowful Mysteries of the Rosary to defeat Proposal 3 and end abortion.




OCTOBER 9 – PUBLIC ROSARY: Another way for us to stand up for Christian values in the public square is to attend the Annual Public Rosary at 2:00pm next Sunday October 9th in the Horace Blackman Park next to the old Hayes Hotel in Downtown Jackson. This one-hour of Eucharistic adoration contains the rosary, the chaplet of Divine Mercy and a procession with the Blessed Sacrament on a short course through the downtown streets.




OCTOBER 18 – QUEENS HOSTS REGIONAL PROPOSAL 3 INFORMATION NIGHT: Join us right here at Queens in the Church on Tuesday October 18th from 7-8:30pm when we play host to a diocesan wide information night about the moral, ethical and legal problems with Proposal 3. This event is free and open to the public, no reservations needed. Guests will be coming from all over Jackson and other parts of the Diocese.

Here is a listing of all the laws and programs in Michigan that will be undone if Proposal 3 passes. This list is taken from www.supportmiwomenandchildren.org:

The 1931 law that protects unborn life, increased penalty for later term abortions, when babies are fully formed, requiring abortion centers to satisfy the same minimum health standards as other surgical centers, abortion procedures can only be performed by doctors, not nurses or non-medical professionals, babies that are born alive during an abortion procedure are protected and cared for, parental consent for minors considering whether to take the life of their child, law requiring that medical complications in an abortion procedure be reported to authorities, fetal trafficking ban, the Partial Birth Abortion Ban, which prevents the partial delivery of a baby before takings its life, protecting the conscience rights of hospitals and doctors who decline to take unborn human life, taxpayer-funded Medicaid dollars cannot be used to pay for abortions, the law that stops school employees from helping a minor take the life of their child, informed Consent for abortion: 24 hour waiting period, information on fetal development and abortion procedure, ultrasound viewing, The prohibition on chemical poisons that take unborn life.

Health insurance does not cover abortion unless there is an opt-in, allocation of funds for family planning or reproductive services, the Pregnant and Parenting Student Services Fund, the Stillborn Tax Equity, a tax credit for those who lose their unborn baby due to natural causes, the Michigan Surrogate Parenting Act, restricting payment for renting someone's womb, ultrasound equipment grants to family planning providers currently prohibit the use of those ultrasounds for abortions, advertising restrictions on centers that perform abortions, any city or county law prohibiting abortion in their health insurance coverage, statutory rape laws, prohibition on human cloning, Elliot-Larsen law that prevents discrimination of employees for pregnancy, the Prenatal Protection Act, search warrants for DNA of terminated unborn child in connection to solving a rape, reporting of dead body by medical examiner including those who died from attempted abortion, prohibition on experimentation on living embryo, fetus, or neonate for non-therapeutic reasons, respectful disposal of fetal remains, restriction on wrongful birth lawsuits.

If for no other reason than having all these restrictions and safeguards removed, Proposal 3 is a radical overreach. That is why our bishops refer to it as 'The Anything Goes Amendment.' We just need to hope and pray it goes away.


GIVE: Many of these initiatives have hidden costs involved. We can be sure that those who are fighting like hell to keep abortion unrestricted and legal will outspend us with money pouring in from all over the country. If you are able to put some of your hard-earned money behind this effort to publicize and educate with regard to the evils of Proposal 3, please click here:

www.supportmiwomenandchildren.org/donate/

Click here for Proposal 3 talking points to use with friends. This is prepared by the Michigan Catholic Conference:

https://www.micatholic.org/assets/files/advocacy/defeat-proposal-3/proposal-3-one-pager.pdf

You can make use of all the Michigan Catholic Conference's free resources by clicking here:

https://www.micatholic.org/advocacy/catholic-action-plan-to-defeat-proposal-3/

I hope you will join us tomorrow at 7pm in the Queens School Gym for the Equipping Life Webinar.




CHRIS STEFANICK COMES TO LANSING: For those who take advantage of our free parish subscription to Formed (www.formed.org), one of their most notable speakers who appears in many of their videos is Chris Stefanick. He is the host of The Search, a 7-part series I highly recommend everyone watch. Chris Stefanick is coming to St. Gerard Church in Lansing to speak on Wednesday October 19th at 7:00pm. Tickets are $20 per person. You can buy your tickets here:

https://stgerard.org/reboot

Chris will speak about his 'Reboot' program: the fun, inspiring and practical experience of applying the beauty and genius of the heart of the Gospel to every aspect of your life. From prayer and spirituality, to work, dating, marriage, parenting, health and more! There is no part of your life that will be left untouched!

St. Gerard is located at 4437 W. Willow Hwy on the west side of Lansing. Treat yourself, family and friends to this evening of spiritual enthusiasm and renewal. Here is a clip of Chris introducing the program:

https://youtu.be/Zbb0jTTeHVw

MINISTRY SCHEDULES: Copies of the ministry schedules for Altar Servers, Lector, Extraordinary Ministers of Communion, ushers and ministers of hospitality are available in the sacristy after Masses this weekend.

"The only thing necessary for the triumph of evil is for good men to do nothing."

Jesus, protect and save the unbornFr. Tim MacDonald
Pastor