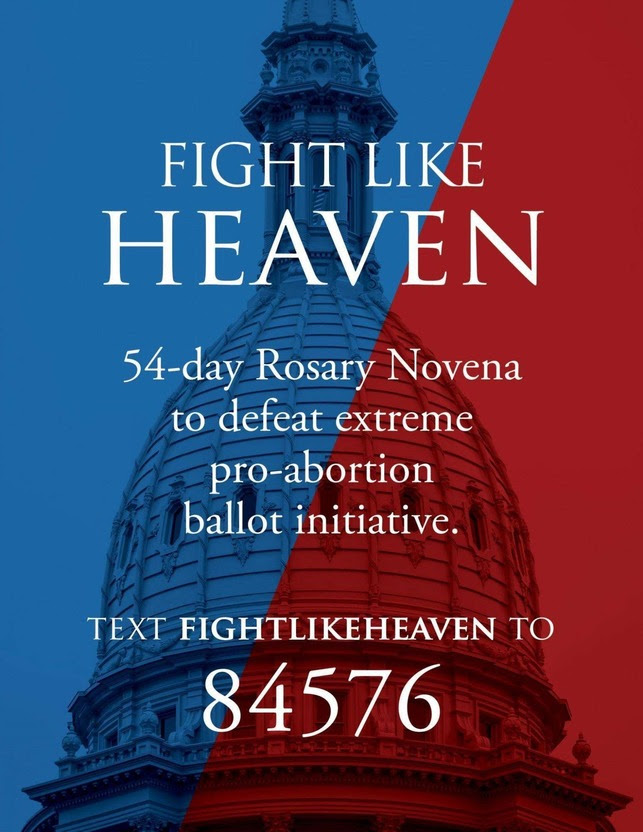 THE LATEST ON THE ABORTION AMENDMENT: This last weekend we heard a message from Bishop Boyea at all the Masses, drawing our attention to Proposal 3 that will appear on the November 8 ballot. Here is the wording of the proposed constitutional amendment:

Constitutional Amendment to: establish new individual right to reproductive freedom, including right to make and carry out all decisions about pregnancy, such as prenatal care, childbirth, postpartum care, contraception, sterilization, abortion, miscarriage management, and infertility; allow state to prohibit abortion after fetal viability unless needed to protect a patient's life or physical or mental health: forbid state discrimination in enforcement of this right; prohibit prosecution of an individual, or a person helping a pregnant individual, for exercising rights established by this amendment; and invalidate all state laws that conflict with this amendment.

It is the ending statement that should most concern us: 'and invalidate all state laws that conflict with this amendment.' Michigan has many laws that regulate the abortion industry and all will fall if this proposal is voted through, such as bans on partial birth abortion and the requirement to notify parents if a minor is seeking to terminate a pregnancy.

To see all the state laws concerning abortion that may become moot if Proposal 3 passes, visit this link: www.supportmiwomenandchildren.org/amendment-summary/. Click on "Resources" and then read "Analysis of the Abortion Amendment." This is where you will see how the vague language of the amendment allows for all types of loop holes to excuse, deregulate or at the very least decriminalize so many things about the abortion industry and beyond it.

The proponents of totally unrestricted abortion in Michigan have said they will 'fight like hell' to see passage of this amendment. Bishop Earl Boyea and his brother bishops of Michigan's seven Catholic dioceses have countered that effort with the 'Fight Like Heaven' campaign, a 54-day rosary novena, using prayer, fasting and almsgiving to beseech the armies of heaven on behalf of the lives of countless unborn children who will be lost if this proposed amendment is added to the Michigan Constitution. A rosary a day and some fasting or other small sacrifices are a small price to pay for the spiritual gains that may be obtained by this effort to get as many people across Michigan to pray for the same petition as possible.

The rosary novena begins TOMORROW, Thursday September 15th on the Feast of Our Lady of Sorrows. If you would like daily motivation and inspiration via text to help encourage throughout these days leading up to the election, text FightLikeHeaven to 84576.

If you do not know how to pray the rosary, click here:

https://rosarycenter.org/how-to-pray-the-rosary




On August 14th of this year, journalist Daniel Panneton wrote an article for Atlantic Magazine, called, "How Extremist Gun Culture Is Trying to Co-opt the Rosary: Why are sacramental beads suddenly showing up next to AR-15s online?" This is the first paragraph:

Just as the AR-15 rifle has become a sacred object for Christian nationalists in general, the rosary has acquired a militaristic meaning for radical-traditional (or "rad trad") Catholics. On this extremist fringe, rosary beads have been woven into a conspiratorial politics and absolutist gun culture. These armed radical traditionalists have taken up a spiritual notion that the rosary can be a weapon in the fight against evil and turned it into something dangerously literal.

Is nothing sacred? Even Our Lady's rosary has to be cancelled?! St. Padre Pio did in fact mention the rosary as a weapon:

"Love the Madonna and pray the Rosary, for her Rosary is the weapon against the evils of the world today. All graces given by God pass through the Blessed Mother."

He thought the rosary could ward off attitudes like the ones expressed in this article. Using Padre Pio's definition, praying the rosary is also the best way for us to work together spiritually to lay the foundation for the defeat of The Reproductive Freedom For All Act, Proposal 3. Let's fight like Heaven together and pray, fast and give alms for this most important cause.




LIFE CHAIN 2022: I believe this year's Life Chain requires a bigger turnout than ever before given the high stakes of this proposed amendment to the Michigan Constitution. Join us at the corner of West Michigan Avenue and Bowen St. at 2:30 on Sunday October 2nd for an hour of silent prayer, standing up for the culture of life in the face of the culture of death. Signs will be handed out with prayers on the back to recite individually and in silence. This is not a protest. It is a reminder that the silent majority still believes in absolute truth, the natural law, the common good and Biblical values that defend the right to life, liberty and the pursuit of happiness for all people, even those in the womb.




OCTOBER 9 PUBLIC ROSARY: Another way for us to stand up for Christian values in the public square is to attend the Annual Public Rosary at 2:00pm on Sunday October 9th in the Horace Blackman Park next to the old Hayes Hotel in Downtown Jackson. This one-hour of Eucharistic adoration contains the rosary, the chaplet of Divine Mercy and a procession with the Blessed Sacrament on a short course through the downtown streets.
SUPPORT CATHOLIC RADIO: Good Shepherd Catholic Radio's Fall Fundraiser continues through Friday September 16th. Please listen to 1510AM or 93.3FM or make an online donation at www.gscr.org. A city the size of Jackson is blessed to have its own faith-based, Catholic station. Good Shepherd depends on the support of its listeners to stay on the airwaves. Please make a donation today and listen to Good Shepherd every day!




PARISH PICNIC: Plan on joining us for the Annual Parish Picnic on Sunday September 25th, 11:30am – 3:00pm, sponsored by the Queens Parish Life Commission. There is food and fun for people of all ages as we gather to share fellowship as a parish family. There is no RSVP and no fee, just a good time to be had by all.

Jesus, Protect and Save the Unborn

Fr. Tim MacDonald
Pastor